REASON Omaha - Darwin Days
Announcing REASON's 19th Annual Darwin Day: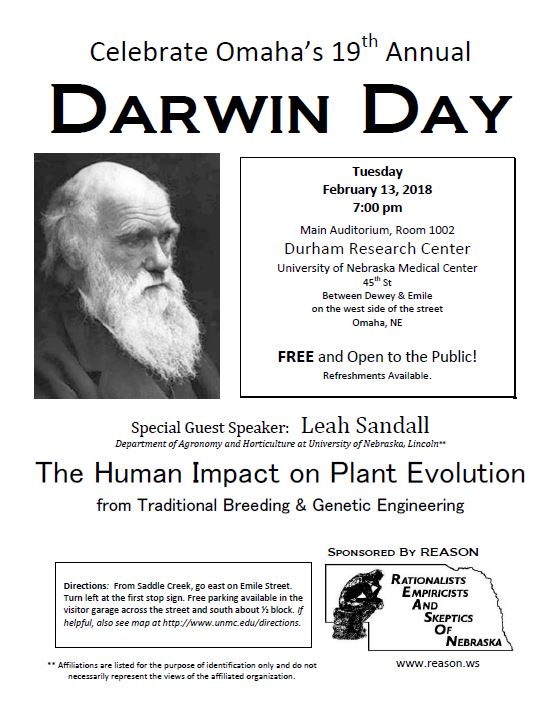 "The Human Impact on Plant Evolution from Traditional Breeding & Genetic Engineering" (
Flyer
)
The following is a list of past Omaha Darwin Days sponsored by REASON. For more information on Darwin Day see the official
Darwin Day homepage
.
"Our lost world: the causes and consequences of the loss of ~1 billion large-bodied animals at the terminal Pleistocene"
(
Flyer
)(
Video
)
"Collecting and Identifying all the Species on our Earth: Progress since Darwin and Wallace"
(
Flyer
)(
Video
)
"From Darwin to the Holocaust? How Creationists Revise History"
Date:
Tuesday, 2/12/13
Time:
7:30PM
Location:
Main Auditorium, Durham Research Center, UNMC, Omaha, NE
Speaker:
Hector Avalos, Ph.D -- professor of religious studies at Iowa State University
&nbsp
"Scientific Illiteracy: A Public Health Hazard"
Date:
Thursday, 2/09/12
Time:
7:30PM
Location:
Main Auditorium, Durham Research Center, UNMC, Omaha, NE
Speaker:
John Janovy, Ph.D -- professor emeritus from University of Nebraska, Lincoln
&nbsp
"Is Evolution Predictable?"
Date:
Thursday, 2/10/11
Time:
7:30PM
Location:
Main Auditorium, Durham Research Center, UNMC, Omaha, NE
Speaker:
Jay Storz -- Biology Professor at University of Nebraska, Lincoln discussed questions regarding the inherent reproducibility and predictability of the evolutionary process.
&nbsp
"Evolution of the Sex-Determination Pathways in Bees"
Date:
Thursday, 2/11/10
Time:
7:30PM
Location:
Main Auditorium, Durham Research Center, UNMC, Omaha, NE
Speaker:
Soochin Cho, Assistant Professor of Molecular & Evolutionary Genomics, Creighton University
&nbsp
"Is it Good to be Sexy or Sexy to be Good?"
Date:
Thursday, 2/12/09
Time:
7:30PM
Location:
Main Auditorium, Durham Research Center, UNMC, Omaha, NE
Speaker:
Ted Burk, Prof. of Animal Behavior Entomology and Behavioral Ecology, Creighton University
&nbsp
"Evolution: It's still happening"
Date:
Wednesday, 2/13/08
Time:
7:30PM
Location:
Main Auditorium, Durham Research Center, UNMC, Omaha, NE
Speaker:
Maurice Godfrey, Dept of Molecular Genetics, Munroe-Meyer Institute, UNMC
&nbsp
"Darwin and the Tree of Life"
Date:
Monday, 2/12/07
Time:
7:30PM
Location:
Main Auditorium, Durham Research Center, UNMC, Omaha, NE
Speaker:
Guillermo Orti, Department of Biological Sciences, University of Nebraska Lincoln
&nbsp
"Are Problems with Evolution Evidence for Intelligent Design?"
Date:
Monday, 2/13/06
Time:
7:30PM
Location:
Main Auditorium, Durham Research Center, UNMC, Omaha, NE
Speaker:
Charles F. Austerberry, Biology Dept, Creighton University
&nbsp
"What Darwin Didn't Know: How Mutations can Increase Complexity and Diversity"
Date:
Thursday, 2/10/05
Time:
7:30PM
Location:
Antiquarium, 1215 Harney St, Omaha, NE
Speaker:
Charles F. Austerberry, Biology Dept, Creighton University
&nbsp
"Is Darwinism a Religion?"
Date:
Thursday, 2/12/04
Time:
7:30PM
Location:
Antiquarium, 1215 Harney St, Omaha, NE
Speaker:
Chris McClellan PhD, History and Philosophy of Science, Notre Dame
&nbsp
"Darwin versus Wallace on Science and Pseudoscience"
Date:
Wednesday, 2/12/03
Time:
7 PM
Location:
McFoster's Cafe, 38th and Farnam, Omaha
Speaker:
Ted Burk, Biology Dept, Creighton University
&nbsp
"Anti-Evolution in Nebraska"
Date:
Tuesday, 2/12/02
Time:
7:30 PM
Location:
Omaha History Center and Coffee Lounge, 512 So 13th St, Omaha
Speaker:
Les Lane, Biologist, Plant Pathologist, UNL
&nbsp
"Serendipity and Science: Charles Darwin and the Legacy of Chance Events"
Date:
Monday, 2/12/01
Time:
7:30 PM
Location:
Omaha History Center and Coffee Lounge, 512 So 13th St, Omaha
Speaker:
Jim Platz, Evolutionary Biologist, Creighton University
&nbsp
"The life and work of Charles Darwin."
Date:
Saturday, 2/12/00
Time:
2 to 5 PM
Location:
Omaha History Center and Coffee Lounge, 512 So 13th St, Omaha
Speaker:
Dennis Kingery, Biology Instructor, Metro Community College
&nbsp