REASON Omaha - Fall Forums
Announcing REASON's 19th Annual Fall Forum:
&nbsp
"Patterns and Predictions: The Midterm Electorate" (Flyer)
Date:
Tuesday, October 30, 2018
Time:
7:00 PM
Location:
Barbara Weitz Community Engagement Center at UNO. Free parking in Lot E (See below).
Summary:
Speaker Sue Crawford, Professor of Political Science at Creighton University, will discuss the midterm election.
&nbsp
Directions: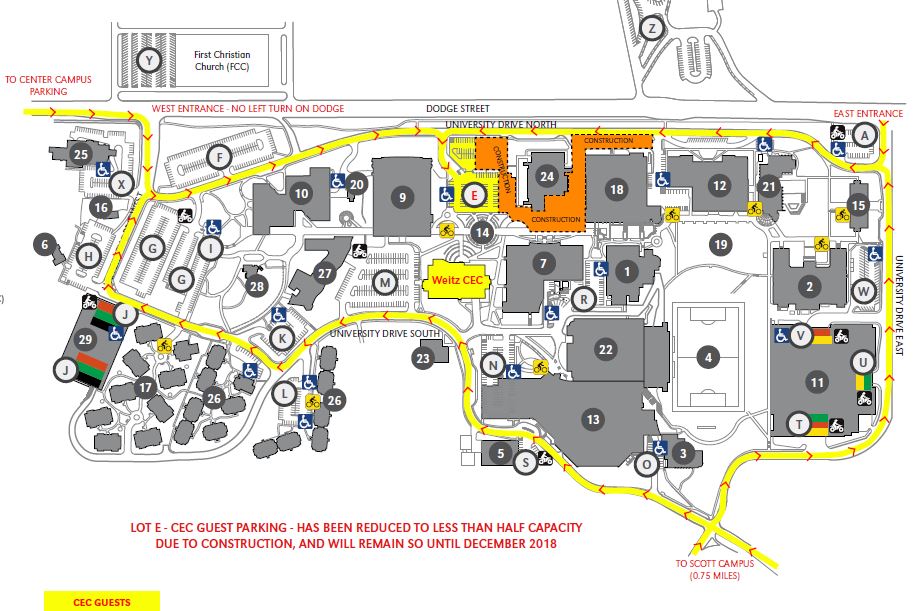 &nbsp
---
The following is a list of past Fall Forums sponsored by REASON.
"Fake News in the Age of Social Media" (Flyer)
Date:
Tuesday, October 17, 2017
Time:
7:30 PM
Location:
Main Auditorium, Durham Research Center - UNMC
Summary:
Speaker Gary Kebbel discussed how social media has helped cause the explosion of fake news, and how we can evaluate it and find accurate, verified information.
&nbsp
"The Secret Life of Garbage: How Solid and Hazardous Waste is Handled in Nebraska" (Flyer)(Video)
Date:
Thursday, October 6, 2016
Time:
7:30 PM
Location:
Main Auditorium, Durham Research Center - UNMC
Summary:
Speaker Erik Waiss discussed the general theory of handling hazardous materials along with specific examples from here in Nebraska.
&nbsp
"Research at the Henry Doorly Zoo" (Flyer)(Video)
Date:
Thursday, October 22, 2015
Time:
7:30 PM
Location:
Main Auditorium, Durham Research Center - UNMC
Summary:
Doug Armstrong, DVM -- Director of Animal Health at Omaha's Henry Doorly Zoo discussed research at the Henry Doorly Zoo.
&nbsp
"Economic Inequality: Back to Normal?" (Flyer)
Date:
Wednesday, October 15, 2014
Time:
7 PM
Location:
Main Auditorium, Durham Research Center - UNMC
Summary:
Hank Van Den Berg, Ph.D -- Professor of Economics at University of Nebraska, Lincoln discussed economic inequality.
&nbsp
"Climate Change: What we know, what we expect" (Flyer)
Date:
Thursday, October 24, 2013
Time:
7 PM
Location:
Main Auditorium, Durham Research Center - UNMC
Summary:
Clint Rowe, PhD -- Professor, Meteorology-Climatology Program, Earth & Atmospheric Sciences, University of Nebraska, Lincoln discussed climate change.
&nbsp
"The Decline of Ethics in Science and Medicine" (Flyer)
Date:
Thursday, October 11, 2012
Time:
7 PM
Location:
Main Auditorium, Durham Research Center - UNMC
Summary:
Roger Brumback, M.D. -- Professor of Pathology, Psychiatry, and Neurology at Creighton University discussed ethics in science.
&nbsp
"Why Science is Important for Non-Scientists" (Flyer)
Date:
Thursday, October 6, 2011
Time:
7 PM
Location:
Main Auditorium, Durham Research Center - UNMC
Summary:
James A. Wilson, Ph.D -- Physiological Ecologist at University of Nebraska, Omaha discussed why science is important to non-scientists.
&nbsp
"Are you Smarter than a Blue Jay?"
Date:
Thursday, October 21, 2010
Time:
7 PM
Location:
Durham Research Center - UNMC
Summary:
Alan Kamil, PhD -- Director, School of Biological Sciences University of Nebraska, Lincoln discussed the evolution of intelligence.
&nbsp
"Evolutionary Medicine: What Darwinian Thinking has to Offer"
Date:
Thursday, October 15, 2009
Time:
7 PM
Location:
Durham Research Center - UNMC
Summary:
James Platz, PhD -- Biology Department Creighton University discussed the application of modern evolutionary theory to understanding health and disease.
&nbsp
"Science & the Media"
Date:
Thursday, October 9, 2008
Time:
7 PM
Location:
Durham Research Center - UNMC
Summary:
Clay Naff, Science writer, Lincoln Literacy Council, John Heaston, Publisher of The Reader, Robert Nelson, Columnist, Omaha World-Herald
&nbsp
"Global Warming"
Date:
Wednesday, September 19, 2007
Time:
7 PM
Location:
Durham Research Center - UNMC
Summary:
John Pollack, Meteorologist, National Weather Service - Andrew Jameton, College of Public Health, UNMC - Ken Dewey, Climatologist, School of Natural Resources, UNL
&nbsp
"Theocracy, Christian Nationalism and Civil Liberties: Church and State in the New Millennium"
Date:
Wednesday September 20, 2006
Time:
7 PM
Location:
Durham Research Center - UNMC
Summary:
Chip Berlet, Senior Analyst, Political Research Associates
&nbsp
"Evolution in public education"
Date:
Wednesday September 7, 2005
Time:
7 to 9 PM
Location:
University of Nebraska at Omaha (UNO), Milo Bail Student Center Ballroom (MBSC), 60th & Dodge, Omaha.
Summary:
Clay Naff, moderator. - Just When You Thought it Was Safe to Teach Evolution - Eugenie Scott, Executive director, National Center for Science Education; The Future of Evolution Education in Nebraska - Charles Austerberry, Nebraska Religious Coalition for Science Education
&nbsp
"Examining the political, religious and economic agenda of the Radical Right"
Date:
Wednesday September 15, 2004
Time:
7 to 9 PM
Location:
University of Nebraska at Omaha (UNO), Milo Bail Student Center Ballroom (MBSC), 60th & Dodge, Omaha.
Summary:
Clay Naff, moderator. Religion - Rob Boston, Assistant Director of Communications for the national office of Americans United for Separation of Church and State, Washington, DC, Economics - John Kretzschmar, Director, Brennan Labor Institute, Omaha
&nbsp
"Two Years After: Has America Responded Rationally?"
Date:
Saturday, September 27, 2003
Time:
2 to 4 PM
Location:
University of Nebraska at Omaha (UNO), Milo Bail Student Center Ballroom (MBSC), 60th & Dodge, Omaha.
Summary:
Clay Naff, moderator. Prof. Marion Boulby, UNO Dept. of History, "A Critical Analysis of US Foreign Policy;" Dr. John Lyden, Dana College, Professor of Philosophy and Theology, "The Culture Wars: Can Progressives Win?" and Musa Al-Hindi, M.A. International Relations, Arab-American Anti-Discrimination Committee, "The Dangers of the Patriot Act."
&nbsp
"Has Science Found God?"
Date:
Saturday, October 14, 2002
Time:
2 to 4 PM
Location:
University of Nebraska at Omaha (UNO), Milo Bail Student Center Ballroom (MBSC), 60th & Dodge, Omaha.
Summary:
Clay Naff, moderator. Vic Stenger, professor emeritus of astronomy and physics at the University of Hawaii, and Dept of Philosophy at the University of Colorado, outlined the answer to the question "Has Science Found God?" (See his book of the same name, from Prometheus press). Michael Cherney; high energy physics, Creighton University discussed "The nature of science"
&nbsp
"Alternative Medicine: BUYER BEWARE!"
Date:
Saturday, October 13, 2001
Time:
2 to 4 PM
Location:
University of Nebraska at Omaha (UNO), Milo Bail Student Center Ballroom (MBSC), 60th & Dodge, Omaha.
Summary:
Clay Naff, moderator. (Drs. Lynn Klassen and Richard Raymond were unable to participate as scheduled.) Dr. Bruce Buehler covered nutrition and herbal medicine. Dr. William Hay discussed healing touch. Dr. Archana Chatterjee showed startling slides of infectious diseases as she discussed immunization.
&nbsp
"Should Creationists Set Science Standards in Our Classrooms?"
Date:
Saturday, October 21, 2000
Time:
3 to 5 PM
Location:
University of Nebraska at Omaha (UNO), Milo Bail Student Center Ballroom (MBSC), 60th & Dodge, Omaha.
Summary:
Clay Naff, moderator. Opening remarks: Rev. Ron Knapp, Minister Emeritus of the First Unitarian Church, described the issues at stake. UNO Biologist Alan Kolok, PhD, explained the principles of natural selection. Creighton Biologist Ted Burk, PhD, described the fossil evidence. Dana College Theologian John Lyden, PhD, discussed the compatibility of science and religion. World Herald coverage, article by Tom Shaw, 10/22/00.
&nbsp