REASON Omaha - Science Links
&nbsp
Omaha Science Cafe
&nbsp
Nebraska Citizens for Science
&nbsp
Nebraska Religious Coalition for Science Education
&nbsp
Past Darwin Days
&nbsp
NASA Missions
Cassini-Huygens
Mars Rover
&nbsp
Evolution Resources
Nebraska Religious Coalition for Science Education
Nebraska Citizens for Science
National Center for Science Education
Vote Science
Swarthmore takes on creationism, Evolution at Wikipedia
Where the action is - Missouri, Texas, Georgia
Understanding Evolution (Berkeley) - a good place to start, easy to navigate
Evolution for beginners, Talkorigins - excellent, but a little harder to navigate
The Panda's Thumb - blog, links to state science education sites
John Stear's links, National Academy's Resources, Neutral Evolution
The Botanical Society of America's Statement on Evolution - interesting details
Darwin on the Web - Creation Watch (CSICOP), PBS Evolution Series
Marshall Berman on Intelligent Design Creationism
Status of creationism in Nebraska - Anti-Evolution in the Scientific Literature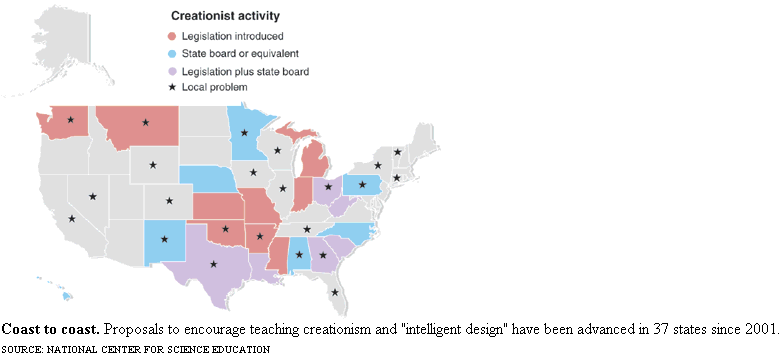 From Science Feb 27, 2004
&nbsp
Climate change references
As of May 19, 2007 Reason-Omaha Meeting:
Climate Change talk by Andrew Jameton, Professor, UNMC College of Public Health
Contact: ajameton@unmc.edu
EcoEquity - Site maintained by Tom Athanasiou and Paul Baer. Has "Inconvenient Truth Part II" Report. See links, such as to CAN (Climate Action Network).
Real Climate - Scientists reply to the nonsense in the media and update current issues.
Physicians for Social Responsibility (PSR) - With AMSA, sponsors Medical Alliance to Stop Global Warming.
Worldwatch Institute - Has extensive Climate Change links.
Global Business Network - Report on Impacts of Climate Change (Jan 2007).
Redefining Progress - Monitoring overall "ecological footprint". Also links to "Genuine Progress Index".
Union of Concerned Scientists - Report: Renewable Electricity Standard Toolkit.
WWF ("World Wide Fund for Nature") - Excellent Report: Climate Solutions: WWF's Vision for 2050.
Apollo Alliance - Has Report: Community Jobs in the Green Economy.
City Sprouts - Local & sustainable food, jobs, durable neighborhoods right here in River City.
UNMC CoPH - This new College of Public Health will hopefully have a "Sustainable Public Health" track and climate change education.
Rocky Mountain Institute - Amory & Hunter Lovins' institute. Excellent technological ideas.
IPCC AR4 SPM WGIII, May 4, 2007. - This is the IPCC draft Mitigation Summary from the Fourth Assessment.
Klare, Michael. "Is Energo-Fascism in Your Future?" - Reflections on socio-political consequences of the nuclear path. In two Parts, beginning, January 14, 2007. Reprinted also at http://www.commondreams.org/
Pacala, S and Socolow, R. 2004. Stabilization Wedges: Solving the Climate Problem of the Next 50 Years with Current Technologies. Science 13th August, 2004, Vol. 305. The original form of the "Wedge" approach to mitigation.
Boyden, Stephen, and Stephen Dovers. 1992. Natural-resource consumption and its environmental impacts in the western world Impacts of increasing per capita consumption. Ambio 21, no. 1 63-69. Strong historical summary of current environmental predicament. Follows Boyden's book Biohistory.
Cohen, Joel E. 1995. How Many People Can the Earth Support? New York W. W. Norton & Company. Warns of overpopulation and limits of Earth's capacity to support humans.
Kolbert, Elizabeth. 2006. Field Notes from a Catastrophe: Man, Nature, and Climate Change. Bloomsbury. This book is a compilation of a series of 3 articles published in the New Yorker magazine.